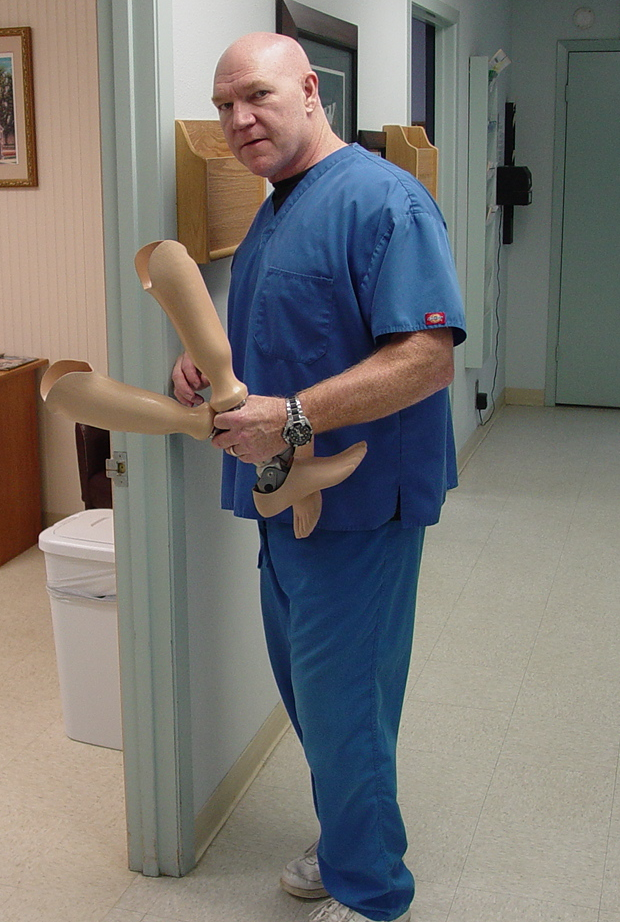 Robert M. Wright, III, LCPO
Robert M. Wright, III, a native Texan and graduate of the University of Texas South-Western Medical School at Dallas, is a Texas Licensed and American board for Certification (ABC) Certified Prosthetist-Orthotist.
Upon graduation from the University of Texas in 1990 Robert completed ABC required clinical residencyprograms and successfully passed Certification Examinations. Robert was awarded ABC Certification inOrthotics in 1992 and Certification in Prosthetics in 1994.
Robert established East Texas Prosthetic-Orthotic Care, Inc. (ETPOC) in 1995 and soon emerged as Longview's most consistently relied upon provider of prosthetic and orthotic services.
"I like to get to know our patients. I have a tendency to spend a lot of time talking to our patients and end up running behind on my daily schedule. Our practice places a special emphasis on the person as an individual not just a patient. Many people we treat become personal friends", Robert says. "The freedom to spend as much time with our patients is what prompted me to establish a practice in a smaller community as opposed to working for a larger organization in a metropolitan community. We take great pride in the services we provide and do everything we can to take care of our patients".
Prior to entering the Prosthetic and Orthotic profession, Robert married Cynthia Ann Pitcock in 1985 and resided in Dallas, Texas. Robert's middle initial stands for Mercer, a family name with origins in the Scottsville area. In 1992, in an effort to leave the big city and get closer to "home" Robert and Cynthia moved to Longview. The have three fantastic children, Jacob, Savannah and Emory and reside in Longview, Texas.
EDUCATION
B.S., PROSTHETICS – ORTHOTICS, University of Texas Southwestern Medical Center at Dallas, Dallas, Texas (1988 – 1990)
B.A., – BIOLOGY, Austin College, Sherman, Texas (1980 – 1984)
SPECIALTY CERTIFICATIONS
Myobock Upper Extremity Prosthetic Certification
Otto Bock C-Leg Prosthetic Certification
Otto Bock Harmony System Prosthetic Certification
Ossur Iceross – Icex Interface System Prosthetic Certification
EXPERIENCE
CERTIFIED PROSTHETIST / ORTHOTIST
PRESIDENT AND FOUNDER, EAST TEXAS PROSTHETIC – ORTHOTIC CARE, INC., (ETPOC), 1996 – PRESENT
C.P.O. responsible for participating in and overseeing all aspectS of clinical and financial management of ETPOC.
CERTIFIED PROSTHETIST / ORTHOTIST, STAFF PRACTITIONER, CERTIFIED LIMB AND BRACE, SHREVEPORT, LOUISIANA (1994 – 1996)
C.P.O responsible for physician and therapist interaction, prescription recommendation, project price quotes, funding verification, design / fitting of orthotic / prosthetic devices, follow-up care and coordination of concurrent health care services. Retention of current technical trends maintained through close association with international central fabrication operation. Attendance at three major clinics including LSU Medical Center, Veterans Administration Hospital and the Shriners Hospital for Crippled Children Clinic with extensive education in pediatric prosthetic fitting.
PROTHETIC RESIDENT
CERTIFIED ORTHOTIC PRACTITIONER, PROSTHETIC – ORTHOTIC ASSOCIATES OF EAST TEXAS, TYLER, TEXAS (1993 – 1994)
C.O. / Prosthetic Intern / Resident responsible for professional and patient interaction, prescription recommendation, design, technical fabrication, fitting and follow-up prosthetic / orthotic care. Involved in opening two satellite facilities, professional marketing, and hospital coverage comprising one hundred mile radius.
CHIEF ORTHOTIC PRACTITIONER, DEPARTMENT CO-DIRECTOR, DALLAS REHABILITATION INSTITUTE, DALLAS, TEXAS (1990 – 1993)
C.O. responsible for prescription analysis, orthotic fabrication and fitting and co-supervision of daily departmental operations. Worked closely with hospital department through in-service programs, emergency on call services for Dallas Rehabilitation Institute, Southwest Orthopedic Group, and area physicians, responsible for instruction of University of Texas students as a clinical supervisor.